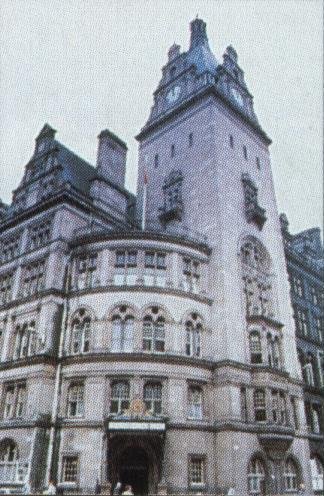 Stan and babe visited Glasgow on all four British Tours:
1932 - Stan and Babe stayed two nights at the Central Hotel, and made a personal appearance on stage at La Scala Cinema. The interior has since been totally gutted, as the venue is now a shopping arcade. All that remains is the arched entry.
1947 - Laurel & Hardy played two weeks at the Glasgow Empire, in Sauchiehall Street. Sad to say, this was demolished in 1963, and the site is now covered by a row of shops. Again, they stayed at the Central Hotel.
During their stay in Glasgow, Laurel had a good look around the inside of the Metropole Theatre, in Stockwell Street, where, in his mid-teens, he had spent a few years working for his father, Arthur Jefferson, who was the lessee-manager.
GLASGOW CENTRAL HOTEL METROPOLE THEATRE, Stockwell Street, Glasgow
Still a working hotel. Demolished and site built on. The Old Scotia pub is till there.
.
1952 – The Boys played only one week at the Glasgow Empire, again staying at the Central Hotel.
1954 - It was two years before Laurel and Hardy came to Glasgow again, and with the conditions they met there, it's a wonder they lived to survive the tale. Snow, ice, and black-outs were continuous throughout the week, and temperatures fell below zero.

To find out the full story of Laurel and Hardy in GLASGOW,
buy a copy of the book via the BOOKSHELF link below: