LAUREL and HARDY on TOUR in AMERICA
The Laurel and Hardy Revue (1940) played 13 US cities, including -
CHICAGO; MILWAUKEE; HARTFORD; OMAHA; MINNEAPOLIS.
.
LAUREL & HARDY REVUE - 1940
Stan, Ollie, and the Cop - played by James C. Morton,
who featured in some of the Boys' Roach films.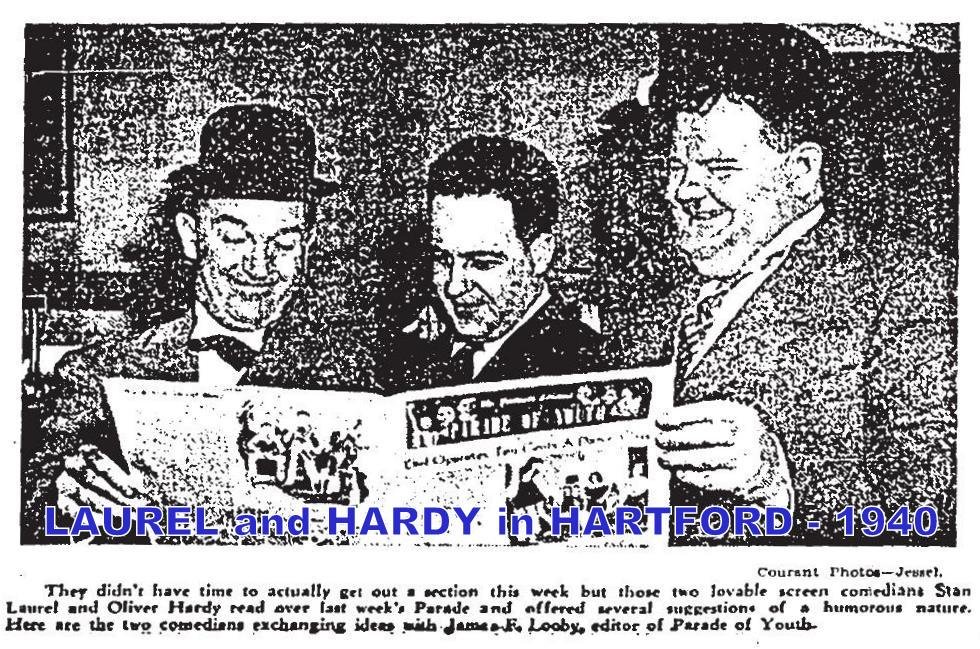 A 'lost' photo from a 1940 Hartford newspaper
Another LAUREL & HARDY REVUE followed, taking in:
FORT WAYNE, YOUNGSTOWN, CINCINNATI; CHICAGO; and BOSTON
- to name but five of the US cities they played.
.
LAUREL & HARDY STAGE SHOW - 1941-2

Newspaper advertising block
for the show at FORT WAYNE
The Hollywood Victory Caravan (1942)
The 'Hollywood Victory Caravan' was a train, going from city-to-city, raising funds from the sale of War Bonds. Aboard for the duration of this 19-day trek were such Hollywood stars as: Frances Langford, Pat O'Brien, Rise Stevens, Joan Blondell, Desi Arnaz, Eleanor Powell, Charlotte Greenwood, Frank McHugh, Charles Boyer, Jerry Colonna, Bert Lahr, Cary Grant, Bette Davis, Oliver Hardy, Stan Laurel, Elyse Knox. Bob Hope, Bing Crosby, James Cagney, Groucho Marx, Joan Bennett, Claudette Colbert, Olivia de Havilland, and Merle Oberon.
HOLLYWOOD VICTORY CARAVAN - 1942

Posing in front of the train engine, bedecked with a banner reading:
HOLLYWOOD VICTORY CARAVAN
are Joan Blondell, Cary Grant, Rise Stevens, Charles Boyer, Desi Arnaz, Oliver Hardy, and Stan Laurel.

Oliver Hardy attempts to drive away the army jeep,
on hand to convey them to their Washington hotel.
Rise Stevens, Eleanor Powell and Desi Arnaz react in an almost Three Wise Monkeys' expression.

News pic of the HVC arrival in Philadelphia. Laurel is 3rd from left.

Charlotte Greenwood finding Oliver Hardy as funny off-screen, as on.

I don't want this to come as a shock, but the above news pic
proves that Laurel and Hardy weren't Siamese twins.

Are Babe and Stan sucking chocolate-coated biscuits,
or some kind of ice lolly (popsicle)?

Houston - we have a problem.
Laurel and Hardy have arrived.

Stan Laurel, Desi Arnaz, Rise Stevens, and Charlotte Greenwood, socialising on board the HVC, whilst listening to Alfred Newman at the piano.
More photos will be added when time and motivation allow.
LAUREL and HARDY - The US Tours
Order now by clicking on the LULU link, below: