LAUREL and HARDY the US Tours
What they said:
Hey A.J., I'm 3/4 through your book, and am loving every page. Really wonderful stuff, which blows the doors off a lot of traditional perceptions and beliefs.

Chris Seguin, Toronto, Canada
- - - o - - -
LAUREL & HARDY: THE U.S. TOURS is a remarkable book. You have done so much incredible research! Many thanks!

Lou Sabini, Stamford, Ct. US
- - - o - - -
I was really amazed at all of the research that you did to fill in a missing chapter on the boys. Great Work!

John Richter, Hanover, Pa. US
- - - o - - -
I've just received my copy of your new book about 'Laurel & Hardy's US Tours' - and, as it turns out, so much more.
Thanks for the great service you've done for all of the Boys' true admirers.

Randy Skretvedt, Buena Park Ca. US.
- - - o - - -
Yet another extraordinary literary tribute by 'A.J' Marriot to the greatest comedy team of all time. It is a fascinating chronicle of the lesser known history of The Boys and chock-full of interesting information and photographs - some of which has never been published before. I congratulate AJ on a job well done!

Tyler St. Mark. Beverly Hills, Ca. US.
- - - o - - -
I must say, it was great fun. The book has lots of good information - but also you write with such good humor that it was a most enjoyable read.

Jeff Donaldson, Green Valley, Ca. US
- - - o - - -
Very impressive and very, very interesting. What a work ! It is a true tour de force. Congratulations.

Jean-Luc Vandiste, Savigny, France
- - - o - - -
No brickbats here just - pure admiration for the research and care gone into the publication. I love the illustrations being scattered throughout the book at suitable places. And what photographs, so many completely new to me. As they usually show the boys clowning around they are also very happy pictures. I read the book with a smile on my face. The humour with which you tell their story even extends to the captions ('The dead Parrott fish sketch' indeed!) and I found the design with the little cars, trains and buses particularly delightful. Your three L&H books and the Chaplin tome now have pride of place on my bookshelf.

Phil Key (former arts editor Liverpool Daily Post for 40 years.)
- - - o - - -
Your book is tremendous, it's colossal, it's stupendous. I laughed - I cried. I expected newspaper accounts, but you found images of the Boys in every aspect of their career and personal life. Things that I did not know! You wove together all the missing pieces of the puzzle with your most welcome observations and wit, that shows your knowledge of the subjects. Your sense of humor is apparent and most welcome. You stitched together all the elements to make this a most welcome book. Again, congratulations A.J.

Sincerely, Bill Cassara, Rancho Cucamonga, Ca. US
- - - o - - -
I'm speechless about all the new information that you assembled.

Michael Ehret, Marburg, Germany
- - - o - - -
You have done a very fine job of tracking down, documenting - and illustrating - many quite arcane activities. It all greatly contributes to our knowledge of, and affection for, two delightful gentlemen.

Bob Dickson, Los Angeles, Ca. US
- - - o - - -
A fabulous book, which I will read over and over again. Great job!
Scott Rungren, St. Louis, Mo. US.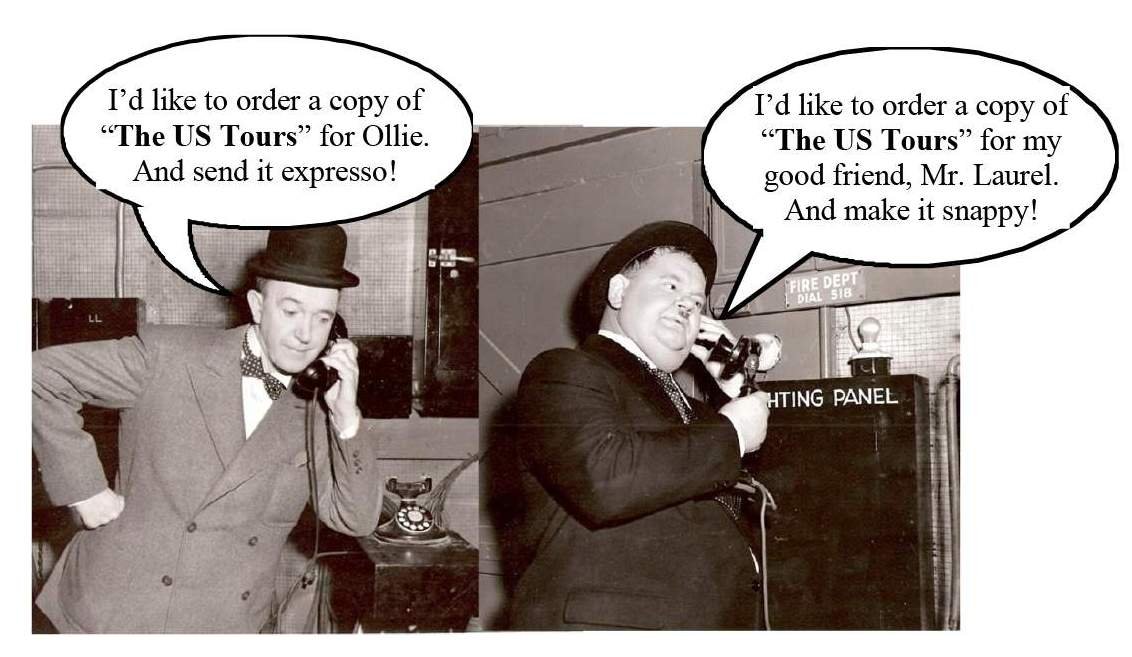 2019 LULU reprint
Order now by clicking on the LULU banner, below: